AFP Now! Campaign 2023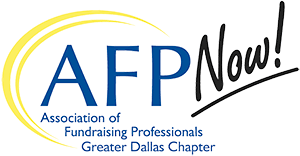 Please join the AFP Greater Dallas Chapter Board of Directors in investing in the important work that our profession engages in every day by supporting our annual AFP Now! Campaign. Seventy percent of your gift supports the work of our chapter in providing educational opportunities and career support for development professionals through all stages of their career in fundraising and 30% provides support for the AFP International Foundation. Donations to the Foundation go toward funding the four pillars of AFP's Case for Support — Leadership, Ethics, Research, and IDEA (Inclusion, Diversity, Equity, and Access).
As a requirement of Board service, 100% of our Board participates in our AFP Now! Campaign each year. If every member will commit to a making a gift we could also achieve 100% member participation. We are grateful for your support at any level that works for you.
The work we all do to support Dallas area nonprofits has never been more important and together we can help each other thrive.
You can make a one-time gift online, mail in your gift, or schedule gifts throughout the year by downloading a pledge form. If you have any questions, please contact 2023 AFP Now! Campaign Chair .
Thanks to our 2022 AFP Now! donors:
Alicia Peoples, CFRE
Ally Dodoo
Barbara McColm, CFRE
Cameron Hernholm, CFRE
Christina Moore-Salinas, CFRE
Christine Heskes
Clayton Hollingsworth
Emily Kettlewell
Evan White
Hannah Orsburn Garcia
Holly Miori, CFRE
Jan Murfield, CFRE
Jana Haigood
Janet Sherlip
John Drake, CFRE
John Gilchrist
Kimberly Patterson, CFRE

Leona Harder
Luanne Samuel, CFRE
Lynn Vogt, CFRE
Mary A. Brumbach, CFRE
Mary Meredith Freeman, CFRE
Melody Karsi
Michael Gonzales
Paul Dunne, CFRE
Rebecca Reyes
Robert Hopkins
Shawn Wills, CFRE
Stephanie Brigger, CFRE
Tameka Cass
Tiffany Anderson
Tobie Smith
Tori Correll, CFRE