AFP NOW Campaign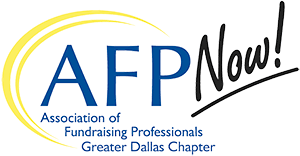 Once again we are asking members of the Greater Dallas Chapter of the Association of Fundraising Professionals to make a philanthropic investment to the AFPNow! Campaign that supports our profession, the work of our chapter, and the AFP International Foundation.
The first goal is 100% participation by your board of directors, which is a requirement of board service. Then we have set a 25% member participation goal for 2020, and finally, a fundraising goal of $10,000. It is important for you to know that 70% of each dollar raised will stay here at our Chapter, and 30% of dollars raised will be sent to the AFP International Foundation.
This is an exciting opportunity for our members to support both the AFP Greater Dallas Chapter and the AFP Foundation with one gift. Together, we can reach our goals!
Gifts both large and small will be gratefully received. You can make a one-time gift online, or mail in your gift or schedule payments throughout the year by downloading the 2020 pledge form. Please contact 2020 AFP Now! Chair , if you have questions.
Be part of the 2020 AFP Now! Campaign and support educational programming for your AFP Greater Dallas Chapter!
A very special thanks to these generous people who helped us reach our 2019 goals!
Sue Bailey
Nancy Baumgarten
Sara Besly
Ragan Blackmon
Stephanie Brigger
Mary A. Brumbach, CFRE
Lisa Bury
Sarah Conner
Tori Correll, CFRE
Jane Costello
Carrie Croley
Tanya L. Downing
Paul Dunne, CFRE
Sarah Elliott
James N. Falk, CFRE
Mary Meredith Freeman, CFRE
Andrea Ghotekar
Jeremy Gregg
Darryl Griffin
Jana Haigood

Colton Hendrik
Anne Porch Hines
Kimberly Humphries, CFRE
Teri Isaacs
Erin Jines
Victor A. Korelstein, CFRE
Diana Marquis, CFRE
Patricia Monfrey
Laura Muniz
Jan Murfield
Melanie L. Perkins
Anne Robillard, CFRE
Sally Rudd
Carole V. Rylander, CFRE
Luanne Samuel
David Shallenberger
Janet Sherlip
Brandy Wicker
Judy Wright